The PetroWrap Anti-Corrosion System has been developed for long term protection of metal surfaces that are underground, underwater, or exposed – even in the most severe environments.
It consists of a cold applied system of petrolatum-based PetroWrap Anti-Corrosion Tape, PetroWrap Primer, and, where contouring is necessary, PetroWrap Mastic. PetroWrap adheres to surfaces without heating, even on damp and/or indifferently prepared areas.
ISSA Code

Width

Length

Weight (lb)

Weight (kg)

>

Rolls/Box

81 24 71
50 mm (2″)
10 m (32.8′)
55 lb
25
36
81 24 72
100 mm (4″)
10 m (32.8′)
55 lb
25
18
81 24 73
150 mm (6″)
10 m (32.8′)
55 lb
25
12
81 24 74
200 mm (8″)
10 m (32.8′)
49 lb
22
8
PetroWrap Calculation Charts: Download
The System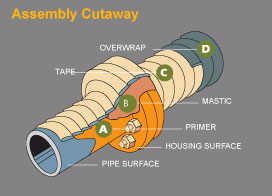 PetroWrap Primer Paste

is a preparatory primer that displaces moisture, pacifies oxides, and fills small irregularities that occur on the surface to be wrapped with PetroWrap Anti-Corrosion Tape.

PetroWrap Mastic

is a cold applied filler which profiles areas to be tape wrapped by easing contours on pipe joints, flanges, bolts, and other irregular shapes to be wrapped with PetroWrap Anti-Corrosion Tape.

PetroWrap Anti-Corrosion Tape

consists of a non-woven, stitch bonded, synthetic fabric which has been fully impregnated with neutral petrolatum based compounds and inert fillers.

PetroWrap Overwrap

is a 12 mm thick tough adhesive tape. It is available in 50 mm and 100 mm widths.
Specifications
Can be applied on wire-brushed surfaces
Repels water, salt, alkalis and acids
Protects new or corroded surfaces
Temperature variances -40°C to +84°C
Will not crack, peel or harden
Non-toxic and environmentally friendly (Meets AWWA C217 Standard)
Applications
Steel pipes, flanges and valves
Welded pipe joints
Cooling tower piping
Pipe crossings
Tank bases
Waterproofing & sealing
Fire protection
Pipe & sprinkler systems
Electrical connection boxes
Cable splices
Hydraulic pipes, valves & fittings
Marine pilings
Application Instructions
Remove all contaminants such as dirt, oil, scale and excessive moisture.
Brush Petrowrap Primer A evenly over surface to displace remaining moisture and ensure proper adhesion.
Press Petrowrap Mastic B into surface irregularities to eliminate air pockets.
Wrap Petrowrap Tape C spirally around prepared surface using even tension. An overlap of 55% is recommended to assure total protection.
Finish with Petrowrap Overwrap D applied like Petrowrap Tape to prevent mechanical damage as required.